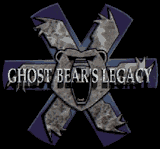 by
MECHWARRIOR FANS REJOICE!!! Ghost Bear's legacy is here and ready for action. For those of you who enjoyed playing MechWarrior II, and simply couldn't get enough, the expansion pack is what you've been waiting for. It offers twelve new missions to play, and some very interesting improvements in the game itself.
Ghost Bear's Legacy focuses on Clan Ghost Bear, one of the many clans in the BattleTech world in which MechWarrior takes place. MechWarrior II focused on two major Clans; Jade Falcon and Wolf, and their bitter hatred towards each other. This enmity escalated into a huge all consuming war, that left both sides reeling from casualties.

Hatamoto-Chi





Ghost Bear's Legacy ignores those two clans, and lets the player into some of the action going on behind the scenes of that war. It turns out that Clan Ghost Bear is preparing for an all out assault on the Inner Sphere (For those of you who don't know what the Inner Sphere is, I suggest that you to go out and get MechWarrior II and play it). This assault has been in the works for a long time, and may actually be successful. The last time a heavy assault took place was many years ago and it included many of the clans which had been founded by Nicholas Kerensky. Of all of them, only Clan Wolf accomplished some of its objectives - every other one failed miserably.

This time around, Clan Ghost Bear feels that it is better prepared and that it learned many lessons from the last time. However, just prior to the assault, the unthinkable happens. Ghost Bear's DNA facility is attacked by renegade mercenaries- the lowest caste - and has it's DNA storage looted. Without the DNA, Clan Ghost Bear's existence would be in dire jeopardy, and would lose much honor and face among the clans. That's where you step in. Mission by mission, you track down who invaded your base, why they stole your DNA and ultimately, who was behind the whole affair.

The great part of Ghost Bear's Legacy was the highly original variety of missions. Some of the missions took place in blizzard conditions on icy planets, others took place in swamp lands, and there was even one mission on the hull of your space ship in outer space! This was further enhanced by the addition of some very interesting new mechs, such as the Kodiak, and the Stone Rhino among others.

Graphically speaking, MechWarrior II and Ghost Bear's Legacy fit into a strange category. The graphics offered are not ground breaking and consist of basic polygonal structures. Having said that however, the detail is very sharp and crisp, and can be played in SVGA. Some of the world's actually look quite amazing. For instance, the desert is very reminiscent of the desert in the old Road-Runner\Coyote cartoons with big spires and mountains.

The Mechs themselves are pretty original, but do lack in detail. Activision missed out on applying texture maps to them, but did add them in MechWarrior Mercenaries. This was the weakest point graphically speaking.

The sound effects and music in the game are nothing short of outstanding. While most of the sound effects are limited to explosions and laser beams, we do get a clear on-board computer voice. All of the music is fully orchestrated and is just amazing. Each song fits the mood and ambiance of the game.

Game control can be a little tricky at the beginning. There are many keys to get used to, but as time goes on, one gets better. The player should really learn to use the mouse, as it allows him\her to swivel the upper body while running in a straight line.
Conclusion:
Overall, MechWarrior II: Ghost Bear's Legacy is a top notch production. It is a fine addition to MechWarrior II and will keep fans happy. I strongly recommend MechWarrior II and Ghost Bear's Legacy.

Written by Anil Chhabra
Ratings:
Graphics:
90%
Sound:
90%
Music:
90%
Gameplay:
90%
Interest:
90%
Overall:
90%
System Requirements:
486 DX2-66 MHz or higher,
Original MechWarrior II CD-ROM,
Min 12MB memory,
MS-DOS 6.0 or later,
Hard drive required with 60Mb free,
Double speed CD-ROM drive or faster,
256-color SVGA video graphic card (VLB or PCI recommended),
Vesa Local Bus or PCI Video card,
Microsoft mouse or 100% compatibles,


Standard two-button joysticks, CH Flightstick and propedals,
Thrustmaster Flight, Weapons, and Rudder Control Systems,
Thrustmaster F-16 Flightstick, Gravis Gamepad and Phoenix Joysticks,
Virtual IO Glasses, Suncom Technologies SFX gamepad, Microsoft Sidewinder
joydstick.


Creative Labs Sound Blaster Basic, Pro, 16 and AWE32; Media Vision Pro Audio
Spectrum Basic, Plus and 16; Gravis UltraSound; Ensoniq Soundscape; Roland
MT-32; General Midi devices supported.
NOTE: This game will NOT run with an 8 bit sound card or the PC speaker. You must own a 16 bit sound card.


100% Hayes compatible modem (9600 BPS or faster); Null-Modem connection, or
IPX/Netbios network.

Developers & Publishers
In North America:
Activision,
11601 Wilshire Boulevard, Suite 100,
Los Angeles, CA 90025
| | |
| --- | --- |
| Technical Support: | 310-479-5644 Monday through Friday 9:00am to 5:00pm PST |
| Fax Support: | 310-479-7355 24 hours a day |
| FaxBack: | 310-473-6453 24 hours a day |
| BBS Support: | 310-479-1335 |
| | |
| --- | --- |
| Hint line: | 1-900-680-HINT (USA) |
| | 1-900-451-4849 (Canada) |
| | |
| --- | --- |
| Order line: | 1-800-782-7927 (USA) |
| | 1-800-828-7927 (Canada) |
Internet Support: Activision Technical Support
Web site: Activision
In Europe:
In UK:
Activision Europe Ltd.,
Long Island House, Suite 3A,
1/4 Warple Way,
London W3 0RQ.
| | |
| --- | --- |
| Technical Support: | +44-(0)990-143-525 Monday through Friday 1:00pm to 5:00pm UK time |
| Hint Line: | 1-0891-555-113 |
In France:
Ubi Soft
28, rue Armand Carrel
93108 Montreuil sous Bois Cedex
| | |
| --- | --- |
| Technical Support: | +33-14857-0554 |
| Fax Support: | +33-14857-6291 |
Web site: Ubi Soft
In Australia and Pacific Rim:
Activision Australia,
P.O. Box 873,
Epping, NSW 2121.
| | |
| --- | --- |
| Technical Support: | 1-902-962-000 |
All content Copyright © 1994, 1995, 1996 Coming Soon Magazine, Inc. All Rights reserved.