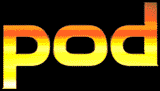 by
The future of racing is here and it's name is POD! This game makes everything that came before it look like your great grandfather's Model T Ford. With more features than you can shake a dipstick at, you'll have lots to explore in this ground-breaking masterpiece of engineering. Prepare to have your gaskets blown away!

It all starts on Planet Io which is the terra formed moon of Jupiter. The Io Mining Company, being a major player in the Solar System's economy, has made an unfortunate discovery in one of its mines in the Governorship of Veitland. News is sketchy at first as the company and the government both try to deal with the situation without alarming the public. Very soon, though, it becomes apparent that there is no way of containing what they've found and speculation runs amok as scientists try to identify the green foam that is spreading like wildfire all over the city. Originally thought to be some sort of pollution, it soon becomes clear that it is much more and that the authorities have no idea what to do about the situation. Demonstrations are held to force the government to tell them just what is going on, but no information is forthcoming. Homes are destroyed as the green foam, dubbed 'POD' by the press, makes its way through sewer systems and up drains and pipes. Days go by and still nothing from official sources. Finally a representative of the Io Mining Company comes forward after stock prices plummet leaving the company floundering for public support.

The details are that POD was accidentally discovered deep in Mineshaft 14 of Plant 21. POD, a fungus, is a terrestrial spore that is native to Io's ecosystem. Normally dormant, POD becomes extremely active in an oxygen environment and proceeds to 'eat' its way through anything it can find. Drilling in the mineshaft punctured an airtight pocket of POD, exposing it to the oxygen rich atmosphere of Io. Rock materials, contaminated by POD, were put onto a transport shuttle by robots, and sent off in the direction of the rapid transport route to Pompeii. Once the shuttle arrived, the shafts and the triage center subsequently collapsed in less than 8 minutes because of the fungus. Before it reached Sewer, security computers were able to identify, stop and destroy the transport. Unfortunately, by that time it was too late. POD had already escaped into the environment.

Finally the government admits that it is powerless to stop POD and announces the evacuation of everyone on Io. Drastic measures are taken to ensure everyone's safety and the Police are called out in full force to ensure the peace. In the meantime, it is discovered that POD has entered a dormant state, though no one knows just how long it will be before POD becomes active once again. Officer Derek Stealth, whose wife Diane was the first human victim of POD's, volunteers to stay and keep the city from being looted. As the days go by his fellow officers begin to desert his side and eventually steal a shuttle off the planet. Officer Storm is left with a single person escape vehicle when the time comes for him to leave as well. For days he has noticed a number of people driving recklessly on the streets of the now empty cities of Io. He modifies his own vehicle and attempts to arrest one of these drivers but has no luck catching them. Before long, his escape vehicle is stolen and he is trapped on Io. As if this news is not enough, he learns via Solnet that scientists have discovered the natural cycles of activity for POD and that it will become active again in three weeks. The news being already a week old, he now has two weeks to get his escape ship back and leave the planet. Not long after this bit of news, he is confronted by the very drivers he was looking to arrest who then tell him that a number of races will be held, the winner of which will earn the right to leave Io on the stolen escape ship. Having no other choice, Derek Storm prepares his car for the ultimate race. His life depends on it.

Speed Demons Unite! This is an experience not to be missed! With a look and feel that has to be unique in the industry, POD has already created a niche for itself in the gaming market. The shareware version passed 100,000 downloads in its first week of release which puts it in the top ten of games to be released online. An impressive record for a game that only has one way to go and that is up. Customizable cars, downloadable tracks and environments and real-time online play are only scratching the surface for this amazing production.

Designed for the latest in chip technologies, the Intel Pentium MMX, this game is at the cutting edge in the industry and will no doubt be the new benchmark for the racing genre. The list of features is endless. Five different game modes, various player options including: two player on a single system; two to four linked via modem; up to eight players on a network. 3D real-time graphics, Dolby Surround sound, 16 race tracks and 8 modifiable cars. If this isn't enough you can go online with the game and download new tracks, new cars, and saved races, compare your best race results with others and participate in contests and championships in real-time. You can even e-mail tracks, cars and best times to anyone else who has the game and race them in Ghost mode where you compete against another's best time. In this mode you can also learn from another's technique and improve your own performance. This product's adaptability will ensure it a long life and a loyal following of demented racers.

The name of the game here is adaptability and variability. For example, the game modes alone offer a wide range of racing options. In Single Race mode, it's the player against the computer. In Championship Mode, you can a) race all tracks and vie for the highest score, b) select the tracks you wish to race and vie for the highest score and c) have the computer select random cars, tracks or both as you vie for the highest point score. In Duel Mode, you compete against another player (up to 8) and vie for points or the best time. In Time Attack Mode, it's the player against the clock, 3 laps, free run or ghost mode, with the fastest time being entered in the hall of fame. This is where you get to test your mettle against others with the same mad passion for speed. In Team Games mode, a minimum of four players two per team, players team up to beat both the clock and the point spread. A player may have the best time but be handicapped by their teammate's poor performance. All this without even mentioning the games real strengths.

With MMX under the hood and full Dolby Surround sound programmed in, players are in for a full immersion into the world of racing. 32 separate voices means that everything from the sound of the cars' engine, the screeching of tires and the sound of cars hitting the walls will be heard loud and clear. Without ever seeing it, players will know when a car approaches from behind and will be able to take evasive actions.

As if the sounds weren't enough, the graphics are sure to pop your eyes out. POD runs in 16 bits per pixel mode which displays an amazing 65,000 colors. The high resolution graphics scream along and an amazing 32 frames per second which adds the ultimate in realism. This jumps to 70 fps with a 3Dfx 3D graphics accelerator! The use of shadows and lens flares combined with life-like animations such as waterfalls and virus leaks brings to life a visual experience that is more real than anything else to date. Even the small details, such as hitting a sign or a cone are exact in that on your next lap you'll see where they landed from when you hit them in the last lap. Full reality in every detail. Nothing was spared.

Connecting and playing online has never been this easy. Up to eight players can set a game time and link their computers together through a network; through the Internet by having one computer call the IP number of the others; through a modem by having one computer call the modem of the other; through a cable link; or in the case of two players, on the same computer screen in the spit screen mode. Players can also mix and match the ways they link together which is revolutionary.

Thanks to an engineering solution called "pre-calculated position engineering", a real-time race can be held over the Internet, again for up to eight players. The game plays with a latency of up to 500ms, enabling POD to be the first racing game that will be multi-player over the Internet for free.

The full CD version will also feature a way to connect directly with Ubi Soft's web pages. From there the server and the CD will communicate to patch the program as needed, get ghosts and player scores and keep all the information in the server database. This database will keep track of all the race results (tournaments, championships, etc) which will be organized online. The database will also serve as a means to customize a POD-page for each player, including players' scores and improvements. The players will be able to receive e-mail enticing them to run other races and participate in championships. POD-NET will also be available to connect players to opponents when they have no one to connect with, also accessible from the CD or from the Ubi Soft web site.
Conclusion:
What more can be said. If you're not part of this racing revolution, you're eating everyone else's dust. This is an experience not to be missed. Nothing else even comes close to matching what this product has to offer. Combine this with the ability to customize cars, new tracks that will be available for downloading and the ability to race anyone else in the world in any possible connection, you have what is probably the most revolutionary product to hit the market in a very long time. Its connectivity alone is worth the price. My advice, get it or be content to putt putt along in your great grandfathers Model T.

Written by Glenn Soucy
Ratings:
Graphics:
95%
Sound:
95%
Music:
90%
Gameplay:
90%
Interest:
90%
Overall:
92%
System Requirements:
Pentium 120 MHz or higher (Pentium MMX recommended),
Windows 95,
Min 16MB memory,
Hard disk with 90Mb free space,
Quadruple speed CD-ROM drive or faster,
SVGA video graphic card capable of displaying 640 x 480 with 256 colors,
Microsoft mouse or 100% compatibles,
Windows 95 compatible 16-bit audio card (Full stereo surround audio recommended).
Developers
Ubi Soft
28, rue Armand Carrel
93108 Montreuil-Sous-Bois Cedex
France
| | |
| --- | --- |
| Technical Support: | +33-(1)4857-0554 |
| Fax Support: | +33-(1)4857-6291 |
Web site: Ubi Soft France
Publishers
In North America:
Ubi Soft
80 E. Sir Francis Drake Blvd., Suite 3e
Larkspur, CA 94939
Web site: Ubi Soft USA
In Europe:
In UK:
Ubi Soft
Bridge House, 11 Creek Road,
Hampton Court, Surrey KT8 9BE
In Germany:
Ubi Soft GmbH
Bartholomausweig, 31
3334 Gutersloh
In Spain:
Ubi Soft S.A.
Can Vernet, n 14
08190 Sant Cugat del Valles (Barcelona)
In Italy:
Ubi Soft
Corso Garibaldi 44
20121 Millano
In Belgium, Netherlands, Luxemburg:
Guillemot International
150 avenue Emile Max
1040 Brussels
All content Copyright © 1994, 1995, 1996, 1997 Coming Soon Magazine, Inc. All Rights reserved.